Today's Pick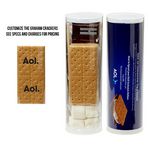 Small Campfire S'mores Kit Tube - 48 Hou...
This small campfire S'mores Kit includes 4 graham cracker sheets, 4 marshmallows, 2 Hershey's milk chocolate bars and 2 toasting sticks, which makes 4 servings. Cooking directions are printed on the b...
$11.83 - $13.08
We are here to make your job easier
Browse our catalog for ideas, or contact us to find the best match for your case and budget
There are thousands of products that can be custom printed with your logo, and they all look good on your computer screen... let us find the right one that will represent you organization the right way.